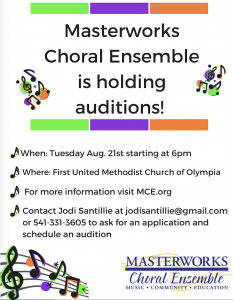 We are currently auditioning Sopranos, Altos, Tenors and Basses for our 38th anniversary season (2018-2019). Our NEXT AUDITIONS are on TUESDAY, August 21, 2018.
Contact Jodi Santillie at jodisantillie@gmail.com or 541-331-3605 to schedule an audition, ask questions or get more information.
Rehearsals are on Tuesday nights from 7-9:30. We start the last week in August and continue through the June concert. We take off a month after our December concert and return to rehearsals in mid-January.
Concert Season
Typically, MCE has four one-night performances in October, December, April and June. MCE also hosts the Northwest's Regional Harmony Sweepstakes contest in March. All events are held at the Washington Center for the Performing Arts in downtown Olympia. MCE concerts start at 7:30 pm.  Immediately prior to the April concert (at 6:15), MCE hosts a reception celebrating the season's Salute to the Arts honoree and our donors and subscribers.
Rehearsals
Generally, rehearsals are from 7-9:30pm on Tuesdays. We currently rehearse at the First United Methodist Church on the corner of Legion and Boundary in Olympia. Rehearsals begin with a vocal warm-up and sight-reading session.
Uniforms
Members purchase their uniform. Men wear tuxedos and women wear the Masterworks concert dress.