2017 Youth Music Competition Student Winners
El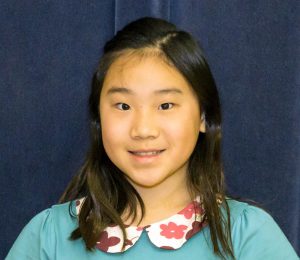 ementary School Level: Chloe Song, Piano, Grade 4, Centennial Elementary
Chloe Song is 10 years old and a 4th grader at Centennial Elementary.  Born in Honolulu HI, she spent her early childhood in Seoul, Korea, and then came to Olympia, WA at the age of 6.  She began learning piano and violin at the age of 5.  She is a student of Dr. Ramona Allen.  This year, Chloe was the 1st place winner at the 2016 OMTA Concerto Competition Intermediate Division.  She is also concertmaster and violinist for the Student Orchestras of Greater Olympia (SOGO, Debut Orchestra).  Chloe contributes musically to her church and church choir at the St. Paul Chong Hasang Catholic Church.  She loves swimming and is in the Silver Swim Club at the Valley Athletic Club.  Other hobbies are art, gymnastics, biking, and skiing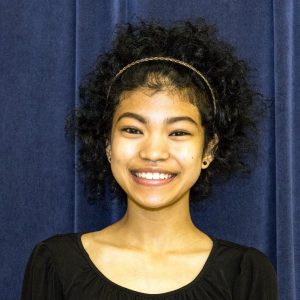 Middle School Level: Suad Maya Dirar , Violin, Grade 8, Aspire Middle School
Suad Maya Dirar is a 14 year-old eight grade student at Aspire Middle School for the Performing Arts. She has been playing the violin since the fourth grade with her teacher, Mrs. Ludmila Henderson. She participates in her school's 8th grade Chamber Orchestra conducted by Mr. Chad Hocutt and is also the youngest member of this year's GOGO (Students of Greater Olympia) Conservatory Orchestra led by Music Director, Mr. John Welsh.
High School Level: Caddie Derby, Violin, Grade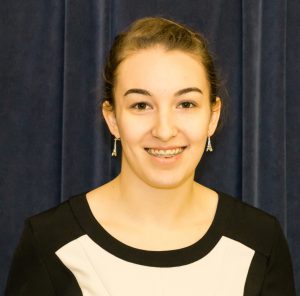 11, Homeschool/Northwest Christian High School
Caddie began learning violin at the age of 7. She has been a member of Student Orchestras of Greater Olympia (SOGO) for eight years where she served as Concertmaster for the Academy Orchestra for two years and she has been a rotating Concertmaster for the Conservatory Orchestra for the past two years.  Caddie was the Featured Violin Soloist for their 2016 November Concert, where she performed the Brandenburg Concerto No. 5 in D Major, by J.S. Bach.
Caddie enjoys classical and fiddle music. She has participated in the Seattle Young Artists Music Festival and the Kairos Chamber Music Lyceum, at CWU in Ellensburg. And is looking forward to attending Belmont University's String Crossings Camp in Nashville, TN this June. She has placed 1st and in the Top 5 at the Spirit of the West Fiddle Contest's in Ellensburg, the Northwest Regional Fiddle Contest in Spokane, the Idaho Open Fiddle Contest in Caldwell, ID, and at the Willamette Valley Fiddle Contest in Corvallis, OR. Last June, at the National Old-Time Fiddle Contest in Weiser, ID she placed in the Top 8 in the Grand National Champion Division.
Caddie is a two time winner of the Masterworks Choral Ensemble Youth Music Talent Contest, the Elementary Winner in 2009, the Middle School Winner in 2012, and was honored to be the MCE Youth Guest Soloist in 2009, and in 2013.
Caddie enjoys homeschooling and being a part-time student at Northwest Christian High School. She enjoys reading, art, sewing, and baking. She also loves ballet and is a company member of Ballet Northwest. Caddie is planning to Major in Music Performance and Minor in Dance at Belmont University in Nashville or Central Washington University in Ellensburg.
This year's three winners will have special spotlight performances in the below three concerts-
Caddie Derby – violin
Way Out West
Suad Dirar – violin
Season of Light
December 2, 1017
Hidden Musical Figures
Background
Each Spring, Masterworks' Youth Music Competition provides an opportunity for area youth to compete in one of three levels: elementary, middle, or high school. Since 2001, this annual event has provided wonderful learning and performance experience for students in our community.
This annual competition is open to all grade 3-12 vocal and instrumental students. The three winners, one from each level, receive a scholarship award and an invitation to perform a solo in a Masterworks Choral Ensemble concert at the Washington Center for the Performing Arts the season following the competition.
 2016 Youth Music Competition Student Winners
2015 Youth Music Competition
Student Winners:
Elementary School Winner
(grades 3-5)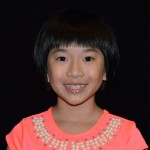 Martha Nguyen
Piano
Garfield Elementary School
Elementary Grade 4

High School Winner
(grades 9-12)

Vadim Pascua
Piano
Olympia High School
Grade 11
---
Past Youth Music Competition Winners
YMC History of winners_rev_2016 <– Click to view a list of past Youth Music Competition winners