Nominate a deserving person for MCE's 2019 Salute to the Arts Award
Masterworks Choral Ensemble is now accepting nominations for our 2019 Salute to the Arts Award. To nominate someone just download the Salute Nomination Form and send it to us: Salute_Nomination_Form_2019
History
Since 1990, Masterworks has honored deserving individuals with its annual 
Salute to the Arts 
Award. Award recipients have played prominent roles in fostering the arts in the South Sound, truly shaping the region's cultural landscape through their talent, energy, and commitment. The yearly recipients have significantly altered our community's cultural landscape through their continued contributions of time, talent and energy to all of the arts in our region.
Past recipients have been integral in forming, creating, and sustaining such vibrant elements of our community as: The Olympia Symphony, The Washington Center, The Procession of the Species, Harlequin Theater, the Olympia Opera Guild, Masterworks Choral Ensemble, Capital Playhouse, Creative Theater Experience, and The Tacoma and Olympia Youth Symphonies. In addition, Salute to the Arts recipients have, through their public and private studio teaching, helped create new generations of artists that continue to enrich us all. To all award winners, past and present, we express our deepest appreciation. We salute you! 
2018 Salute Honoree Victor Jowders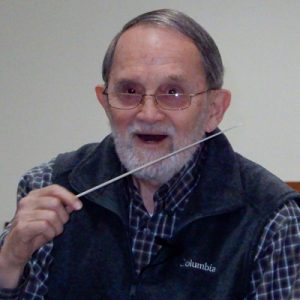 Masterworks Choral Ensemble recognizes Victor Jowders as our 2018 Salute to the Arts honoree for his lifetime contributions to music in our community. Mr. Jowders is currently the director of New Horizon's Band of Olympia. His award will be presented at Masterworks April 14, 2018 concert, "Hidden Musical Figures: women Composers," at the Washington Center for the Performing Arts.
New Horizon's Music Programs provide entry points to music making for adults, including those with no musical experience and those who were active in school music programs but have been inactive for a long time. Many adults would like an opportunity to learn music in a group setting similar to that offered in schools, but the last entry point in most cases was elementary school. Data shows that for most of the last century, about 15-20 % of high school students nationally participated in music. From that, New Horizon's estimates that at least 80% of the adult population would benefit from beginning instruction in order to participate in music making. New Horizons music programs serve that need.
Mr. Jowders graduated from WSU with a B.A in music education. He then began his teaching career in Walla Walla in 1959. He went on to become the instrumental music instructor for Tacoma Public Schools where he taught from 1965-1989 and again for the 1994-95 season. He served as WA Music Educators Association Junior High Representative from 1964-66 and was host of WMEA's All-State-Band in 1988. He is an excellent percussionist and played with the Tacoma Concert Band from 1984-2000. He was director and a member of the Capital Clarinet Quartet from 1994-2004. He was a member of a local Brass Ensemble from 2003-2004 and played a mean trombone in a separate ensemble during that same period. Vic has directed church choirs in Walla Walla, Milton-Freewater OR, Lakewood, Tacoma and Puyallup.
If you have someone in mind you'd like to nominate for our next 2019 Salute to the Arts Award, please complete and return the attached Salute_Nomination_Form_2019. Please include a brief outline and description of the nominee and why you are nominating them.
Past Honorees
1990 Lynn Brunton
1991 Eva and Fred Goldberg
1993 Clara Huffine
1994 Marguerite Agnew
1995 Anton Panowicz
1996 Irv Wright
1997 Ian Edlund
1999 Andy Crow
2000 Ralph & Karen Munro
2001 Jeff Kingsbury
2002 Scott and Linda Whitney
2003 Helen Christopher
2004 Lois Wofford
2005 Eli Sterling
2006 Eric Lee
2007 Dan Lundberg
2008 Bud Johansen
2009 Stan Kildow
2010 Jack Anderson
2011 Stephanie Claire
2012 Troy Arnold Fisher
2013 Diane Gaile
2014 Burt and Di Meyers
2015 Colleen Powers and Kathy Dorgan
2016 Gary Witley
2017 John Welsh
2018 Victor Jowders